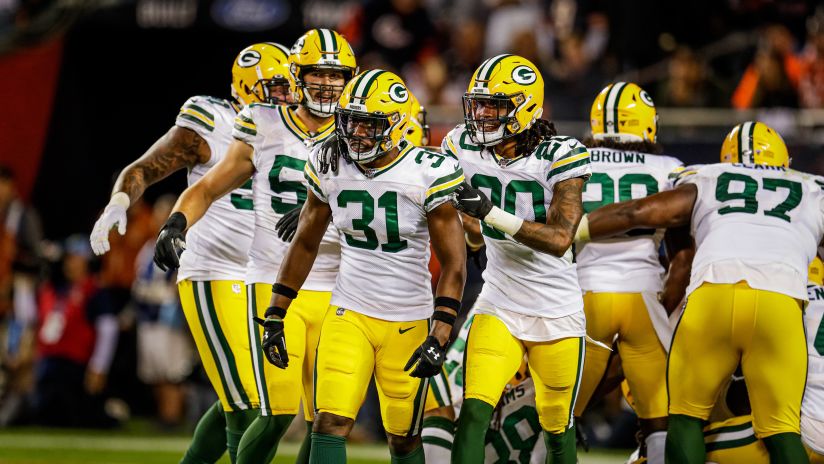 Preseason matters. This past preseason Mitch Trubisky played exactly 3 snaps. All 3 were handoffs on running plays. Aaron Rodgers played ZERO. Trubisky has played 3 seasons. He's not a veteran yet, he needs to experience the preseason more. At least a quarter in game 3. Aaron is a veteran, but he also needs that in-game experience to shake off any rust. It's inherent in his game that he gets rusty.
It showed this Thursday. He came out in the second quarter and reminded everybody that he IS AARON-FREAKINGRODGERS!! And then the Bears defense said, "This is Aaron Freaking Rodgers, we need to tighten up!" So that's what happened.
The talking heads on Friday wouldn't give any love to the Packers. The Packers D showed their teeth and claws and tied for 4th in the fantasy standings for the week. I don't have a clue what that means, but it sounds good. I know they held the Bears to 3 measly points. The talking heads were also falling all over themselves to prove that this game was an aberration, that Mitch Trubisky wasn't a one-read quarterback who was a three-year rookie and that he needs a really good quarterbacks coach or OC to guide him along. They even had a nickname this summer for him: Maserati Mitch. Just tune him up a little and see him go! With the Bears D, that was going to be enough and let the NFC North tremble in fear. They were even that way Thursday, you'd think they were all former Chicago players. Tramon Williams and the Packers Secondary had another plan: keep him in the pocket and make him play quarterback. Trubisky was sacked 5 times and ran for only 11 yards on 3 rushes, which is exactly what the Packers wanted to do. Keep him contained and make him be a quarterback, not use his legs to extend plays or create space so he could throw. That's exactly what our defense did. Aaron went 18 for 30 and just 203 yards, he was also sacked 5 times like Trubisky, but these weren't killers the way they were for duh Bears. He didn't throw any interceptions and Trubisky did! We all remember when it happened too! We also proved that we have a long memory, otherwise there wouldn't have been that big of a cheer when Mason made a 39 yard field goal in the 4th quarter.
This wasn't a great game by any stretch of the imagination. The Packers looked sluggish on offense and I think it was a combination of the offense not having that in-game chemistry going with Aaron and the fact that the Bears still have a very good defense. It's one thing to catch a ball from DeShone Kizer, it's quite another for Aaron Rodgers to zip one to you so fast you don't see his arm. That's GameSpeed! Our defense made the difference in this game. Defenses play more in the preseason, they get to build themselves into a unit. Mike Pettine was down on the field on Thursday and was able to convey adjustments in real time, not wait until halftime and hope he guessed right. In the visitor's locker room Thursday night, or maybe Friday Morning, Aaron Rodgers said, "This should probably go to our defense, but it's a heck of an accomplishment to win your coaching debut in the NFL in these conditions!" He turned and handed a Game Ball to Coach Matt LeFluer. Matt was suitably mobbed by the team who he has worked hard to build into a cohesive unit. He led a cheer; "Family on 3!" Let's hope that's the first of many this season. Oh, and Terry Bradshaw picked the Packers to win the NFC North, "because of Aaron Rodgers, the Bears are a mess!" No Terry, "Upon further review…THE BEARS STILL SUCK!!"
GO PACK!! GO!!!
(Ken Hill)
Just Sayin'
There's something we haven't seen in a long time. A dominating defense. Yeah, We outscored the Bears, but the defense won that game. And since it was alumni day for the game, many of Bear players of the field were in attendance. That included Jay Cutler. Maybe he got close enough to Mitch Trubisky to rub off on him a little. I said last week that time would tell if either the offense or the defense would show improvement. Well, that didn't take long as far as the defense is concerned. I know it is only 1 game, but dang, it looks like the defense is going to be vastly improved this season. It looks like the signing of the Smith Bros. was a good thing. I wonder if they brought any of their cough drops with them. If I may repeat myself to a degree, I know it is only 1 game . . . but I expect the offense to improve. Rodgers has said in the past that he does not need to play in the preseason. And I agree to a certain extent. It would be awful for him to play in a preseason game and be seriously hurt in a meaningless game. On the other hand, the timing he likes to have with his WRs will suffer for the first couple of games. Then it should start improving. Hopefully, the improvement in the running game will coincide with that. I have no rants of any sort this week. There was a Robert Tonyan sighting, but no Jake Kumerow sightings. I heard Chris Collingsworth say that Rodgers was talking about how MVS was fast last year. Just fast. But, this year, he was playing fast. So we should see some pretty good improvement from him this year. OK, we have the Vikings coming to Lambeau this week. After a tie and a loss to the Vikings last year, it is time to get back in the winning ways against them. I know most Packers fans detest the Bears the most. For me, it is Minnesota. I can't stand losing to them. So we need to celebrate Bart Starr's memory in the best way by slaying the Vikings…
Just Sayin'
(Jimmy Smith)
GPB In Our

Ninety-three Packer backers met to inaugurate our new home at Spare Time and our new season. We were able to greet old friends, renew friendships with those we missed last season, and welcome new members. Pleas join us in welcoming 4 new members; 531 Sara Hansen 532 John Blando 533 Aaron Whalen 534 Kara Whalen It's always great to increase the pack! Door prizes were awarded to these lucky numbers. 423 Melody Cox will cuddle with the Locker Room Buddy Bear, and 123 Kraig Pringle will avoid a stiff neck with his Packer neck pillow. 241 Tiffany Bailey will be sporting a new shirt. 219 Dan BLechl will be tipping his new beer stein, and 516 Jackie Boyd will tote a packer cooler to the next picnic. Other prizes went out in pairs; 328 Marge Bramlett will wear fuzzy socks with her poncho, 445 Sharon Dandelske has socks and an oven mitt, while 504 Michael Cox chose socks and a trailer hitch cover. 505 Heather Sharpe got a trailer hitch cover and a ball cap. 120 Neil Petersen will be wearing his lanyard while driving with his new hood flags. 506 Sebastian Sharpe picked a necklace and a night light, and new member 532 John Blando chose a trivet and a coffee mug. We were able to fill both a dollar and a 50₵ pool. Winners of the dollar pool were 221 Barbara Gambrell (3) and 113 Russ Larson. Winners of the 50₵ pool were 113 Russ Larson, 105 Linda Wieloch (2), and 221 Barbara Gambrell. 328 Marge Bramlett correctly answered the first Trivia question of the season. She received a $25 gift certificate from our benefactors at Spare Time Entertainment. Thank you Spare Time! It was so great to open our season with a win. I hope to see even more of you this Sunday at 1:00 for the game against the ViQueens. It is Bart Starr Sunday with a special trivia question, winner get a Packer Bag Chair! Plus the Budweiser girls will be at Spare -Time handing out free stuff. May we add on to our streak of one…through thick and thin…
Packers

vs

Viqueens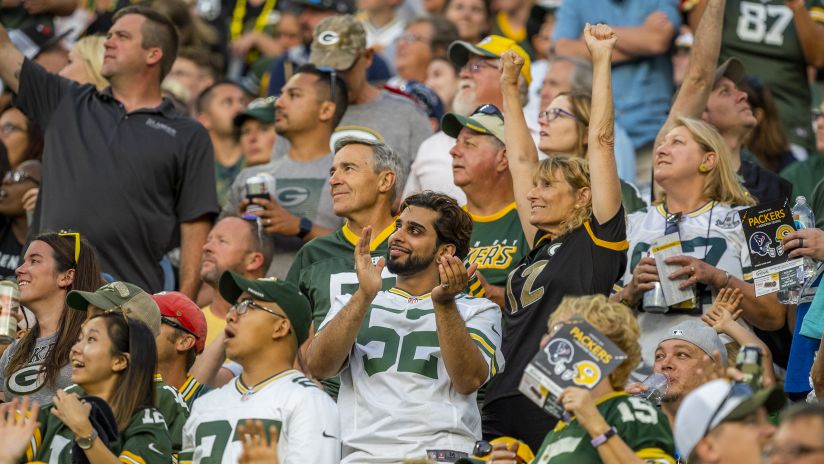 "I'll be better" -Aaron Rodgers to Coach LaFleur after win vs Chicago "We have a defense!" -Every Packers Fan, further articulated by Rodgers I was channel surfing through the cable news outlets and froze when I saw the images of large, muscular, hairy, unwashed men with long hair and full beards, wearing tall leather boots with leather armor (and what looked like chain mail?), some helmeted but all armed with long broadswords…They were chanting in unison and carrying signs. It looked like they were protesting outside a stadium. The caption along the bottom of the screen read "True Vikings Demand Secession in Heated Protest…" I caught the running commentary: "…this incredible and gripping Human Interest Story. Following the long line of emotionally heated, yet successful protests against sports organizations and teams' use of culturally and racially offensive mascots and logos, it appears that the 'True Vikings' Movement has flipped the script and reversed the trend…" "True Vikings Movement?" Who? My thoughts immediately shifted to some of the now-scrapped, yet iconic examples: Marquette Warriors, Syracuse Orangemen, St John's Redmen, North Dakota Fighting Sioux, and pretty much the entire MAC Conference. The sorry trend of special interest groups putting organizations under fire in the name of political correctness and forcing these changes. "…unprecedented in the history of sports organizations. This stunning reversal has the True Vikings Movement calling for a complete split and total repudiation of the Minnesota organization, team, and especially their fans…" The True Vikings protesters' signs flashing across the screen read: " Vikings Were Proud, Honorable Warriors: Everything You Are NOT," "Go Back To Your Domes," and "Get in Your Prius and Never Come Back!" There was even a rather clever sign with their familiar purple helmet and logo that read "NFL/MIA…" One of them was being interviewed, with his name abbreviated to "Eric the R" to protect his privacy. "This sorryass bunch of posers as an organization and fan base is a disgrace" says Eric. "It is insulting, disparaging, a blemish and insult to everything in our traditions and which we hold sacred. They are like a hideous, perverted perpetual coat of purple sludge that invades and infects all that it permeates." Just then, a group of whiny losers sucking on lead paint chips showed up to counter protest against the True Vikings. There was a rumor that these "counter protesters" were actually being paid with Backstreet Boys CDs and tickets to a Yanni concert. Their signs read: "No Dome, No Peace," "Lombardi Oppressed Us," "Free AP," "It's Too Cold To Play Outside," and "Win or Lose, Everyone Gets a Trophy!" The "counter protesters" started to clear out when a group of debt collectors and angry husbands approached. Then, someone yelled "Parole Officer" and they all split like cockroaches heading for the corners! The camera cut to the mighty Thor: "I'd destroy them all with my hammer, Mjolnir, if only I was real as opposed to a figure of Norse Mythology and Marvel Comics!" Thinking this was all blissfully insane yet inspiring, I turned off the TV and immediately ran my first Marathon…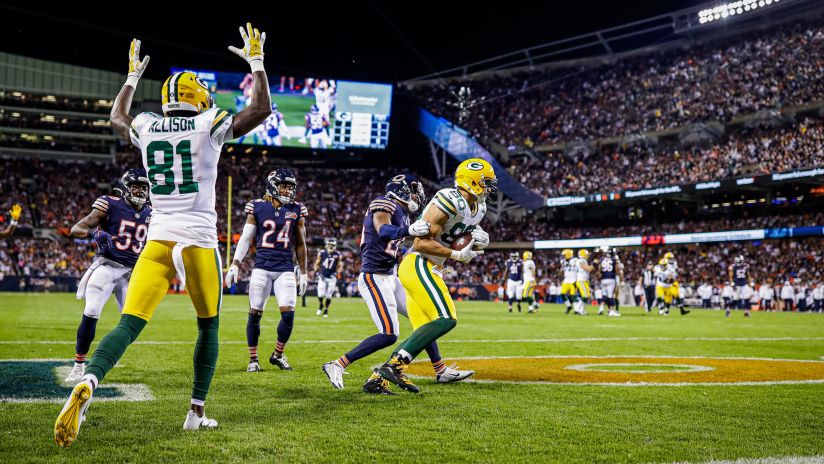 Like many, I was excited about the overhaul and changes made in the offseason. I do have to admit, as a cardcarrying Francophobe, I was a little leery of hiring a French guy whose name means "The Flower." It turns out he's 100% American and doesn't even speak that Pig-Latin language. So, he's kind of like French, just without all the surrendering… Rodgers loves this guy, despite the attempted destabilizing efforts of Fake News. "I'll be better" was a reflection on an U -G-L-Y game which set football back to before Packer John was a Cub Scout (actually I spent my early years pooping my pants when "Scooter" McLean was coach ~ PJ). It was also, and more importantly, a tip of the cap and show of respect, an acknowledgment that LaFleur is the true Captain of the Ship. Aaron's comment was subtle yet ominous, like he's done several times before (R-E-L-A-X, Run the Table, et al). He meant it. He means it. And we already knew it anyway… "We have a defense!" It's a small sample size, and maybe we should pump the brakes a bit, but they looked fantastic! The eyeball test shows obvious improvement in speed and talent. Three points allowed on the road at Chicago (Ok, they should've had at least six )! Happy Trails to Matthews and Perry, welcome Za'darius and Preston Smith (The "LockSmiths?"). I'd say they looked different in their new uniforms, but it's been so long since either of them did anything, I forgot what they look like… Game Two of a new season, a new journey for the Packers. Their first home game as a squad. The Lavender Lads of Minnesota. Barney and Grimace. Purple Drain, Purple Stain. Their fan base is what happens when cousins reproduce... They weren't tested at home last week in beating Atlanta. QB Kirk Cousins threw a grand total of ten (10) passes, completing eight (8) for 98 yards. That's his dream game (absent that one with the voodoo call against Cllaymaker that bailed him out of a game-losing INT last year). I'm guessing it will take a little more than trying to pound the run and hiding Cousins to beat the Packers in Lambeau. It would of course be nice to win, but particularly in the NFC North, which is starting to resume a "same as it ever was" hierarchy in the early going. Chicago is as usual crying about their QB and losing all the time to the Packers. Minnesota cleans up on pretenders and never beats anybody good. Detroit is, well, Detroit. I love the setup and the vibe with the new scene at Spare Time! Many of you took the time to let us know your approval and to thank us for our efforts. It is true that as the "Lewis and Clark" of our club, Neil and I have seen more bars than the windows at Shawshank. It was a labor of love, tough but somebody hadda do it. It looks like we have a great new home. Introduce yourself to Steve Klotz, the business side of our new alliance. He was the guy wearing that "brat–ncheesehead necklace" that made him look like a somewhat bleached version of a native headhunting savage. He's a huge Packer fan and a really nice guy, but if he challenges you to a bowling match, turn and run (I mean, obviously grab your drink first) as he won two National Championships in college at Wichita State… Packer: Knock, knock! Viking: Who's there? Packer: Super Bowl ring. Viking: What's that? (repeat 4 times). LaFleur. "The Flower." Which over time blooms into something much more than it was, something beautiful. Something flexible, yet strong. Adaptable. Life-giving, rejuvenating… Now that's a "Human Interest Story… "
Go, Pack, GO!!!
(Kraig Lewis)
Shining Starr
Bart Starr… I can't say I ever met him in person; I was never sitting in Lambeau watching him. I wish I could have had that single moment to meet him, to talk to him, to spend just a fleeting minute in his presence; I am envious of those that did. The closest I've ever gotten was going to Rawhide Boys Ranch at Christmas to get our tree. As the following stories will attest, he was all that was good for football, the NFL and someone who used his celebrated position helping others. I was reading articles on-line about him and oddly enough the best comment came from President Richard Nixon in a speech on October 17, 1970 at the Brown County Veterans Memorial Area. In just a few sentences he was able to define who Bart really was. President Nixon said… "We honor him as a very great practitioner of his profession, the proud profession of professional football; And as we honor him for that, we honor him not only for his technical skill but, as I've indicated, also for something that is just as important: his leadership qualities, his character, his moral fiber ... But I think the best way that I can present Bart Starr to his friends is to say very simply that the sixties will be described as the decade in which football became the number one sport in America, in which the Packers were the number one team, and Bart Starr was proudly the number one Packer" . I hope you enjoy the following as much as I did.
RIP Bart.
(Packer John)
Bart Starr Award
When I read this, I immediately had one thought, "my mother in law has a great story for this." So here it is. ~ Seth Ray 524 Memories of the Beginning of the Bart Starr Award and the Super Bowl Breakfast (By: Gina Bielby) In 1985 my husband and I moved to San Diego, California to be a part of Athletes In Action Basketball. In 1988, our Athletes In Action co-workers and we launched the Super Bowl Breakfast. That year the game was in San Diego so we worked relentlessly to make the idea into a success. As a 27 year old I was responsible for overseeing the entire event including marketing, ticket sales, venue, catering and all the details of televising the event. I was equipped with a Clemson Industrial Management Degree but little experience to speak of. We had an executive board comprised of extremely successful San Diego businessmen (one of the original Apple startup guys and a San Diego real estate tycoon were 2 of the members) that helped navigate us through. One day we were in a board meeting and these men were brainstorming strategies of how we could get this event sanctioned by the NFL so we could officially call it "The Super Bowl Breakfast". I spoke up, held up the approval letter I had from the NFL and said, "It already is". They asked, "How did you get that?" and I simply said, "I asked". The phrase "ignorance is bliss" comes to mind. While planning for the Super Bowl Breakfast the concept of an award that could be voted on by the players was born. We determined that the player should have outstanding character and leadership in the home, on the field and in the community. It was very important to me that home was listed first and then the progression to team and community. The winner should be known first as a man that exhibited these qualities in his own family. The person that this award would be named after should embody those qualities. Bart Starr was the exceptional choice because he had always lived his life according to these standards and priorities. Next, what would the award look like? For some reason the 1980 Super Bowl Coca-Cola commercial with Mean Joe Greene giving the little boy his jersey came to mind. I thought wouldn't it be great if Bart could be giving a child a football. I contacted the company that made the Miss Universe Crown to design the award. As a little girl in South Carolina, the Green Bay Packer's had been my favorite team. Not because of their great success but because my favorite color was green and I loved their uniforms. Glad those colors have stayed the same. I was chosen to fly and meet with Bart and Cherry Starr in their home to work out the details of the award design. They shared that their oldest son had died only 6 weeks prior. When I told them my idea, Bart said, "Could we use our two boys?" I said "Sure." I thought that idea was wonderful. The award pays tribute to Bart as an athlete, but also as the father of two sons. They began pulling together pictures of Bart and the boys and I headed back to San Diego with them in hand. At that time, I didn't realize the status and prestige of Bart and Cherry or that I was in the presence of greatness. I only knew that they were two of the nicest and most genuine people I had ever met. Even as young as I was, they placed their confidence in me and never made me feel inferior for the task. The next months were filled with sketches and revisions as well as receiving all of the paper ballots from the players across the league and tallying them up to determine the first recipient of the award. (This is what my kids would now call old school).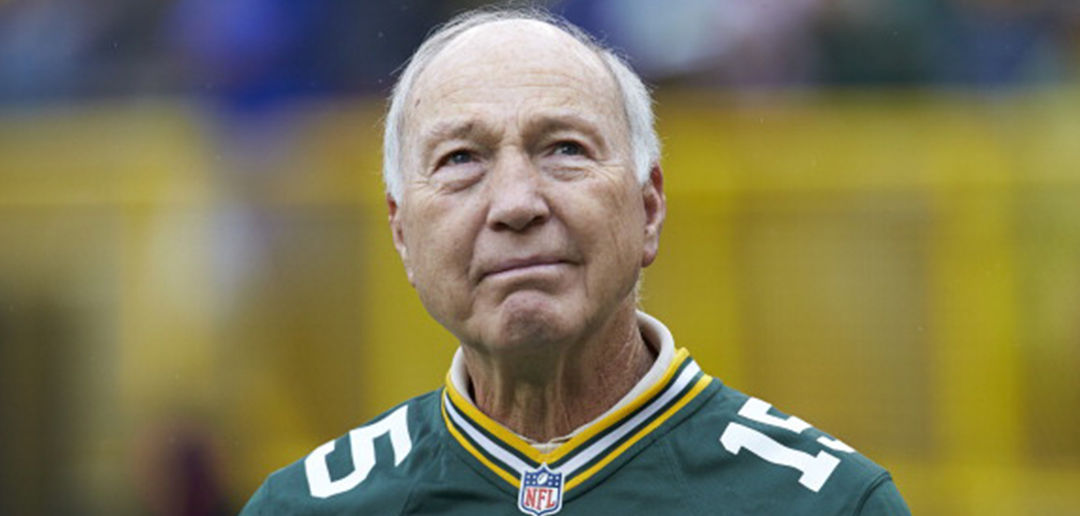 The final design was Bart in his #15 uniform, his arms around his two sons with his older son holding his football helmet and the younger son a football. After approval by Bart and Cherry, the company made a clay sculpture in the likeness of Bart and his sons. There was not enough time before the event to cast the final bronze award. Probably the most nerve-racking thing for me was the thought of the one of a kind, fragile clay sculpture being shipped and arriving in pieces. But, it made it in perfect condition and it was placed under a plexiglass cover on display at the front of the ballroom where the breakfast was held. We worked hard to sell those breakfast tables at $1000 per table of 10. The speaker was secured before the season was underway. It was Joe Gibbs who just happened to be one of the Super Bowl coaches that year. We thought he would surely cancel but he got up the morning before the Super Bowl for the breakfast and gave an amazing presentation highlighting the difference Jesus Christ had made in his life. The following year I moved to Miami for 2 months to oversee that year's breakfast. Now the Super Bowl Breakfast sells out way before the event at up to $2500 per table and the Bart Starr Award has been given to a deserving player for the last 30 years since the inaugural year that I was so blessed to be a part of. At first glance and without knowing the background, people may think it is simply Bart and two boy fans adorning the top of the award. However, it's not just two boys, they are his two boys. Such a happy moment now frozen in time for the world to enjoy. Who would have ever thought that 25 years later my daughter would grow up and marry one of the biggest Green Bay Packer fans of all time and my claim to fame with him would be this story. The day I went to meet with Bart and Cherry Starr is one of those days in my life that I wish I could repeat (and take my son-in-law along of course).
GO PACK GO!!!!!
More Bart Starr Stories
I donated my first car to Bart Starr and his foundation where he taught troubled boys to learn a skill and to become men that are an asset to their community. The crime rate in Wisconsin is lower because of Bart's care and concern for the less fortunate. A great football player and a better man. ~
Anthony Miller
307
I come from LaCrosse, WI. It's where Trane Company was originally founded. As such there existed a massive manufacturing operation. During the summer months, thanks to a great guy named Babe, I was privileged to umpire games the men played in there softball league. At the end of the summer they held a big celebration in the local auditorium. On one occasion they asked Bart Starr if he would speak to them. Yes Bart Starr. - - - and he came. Try that out today. Even back then it was something rare indeed to do something such as that with a professional athlete. When he was finished and the men sat around drinking (what I don't know), I was told he stayed drinking a soft drink and moving from group to group until after midnight or later.
~ John Krueger
382