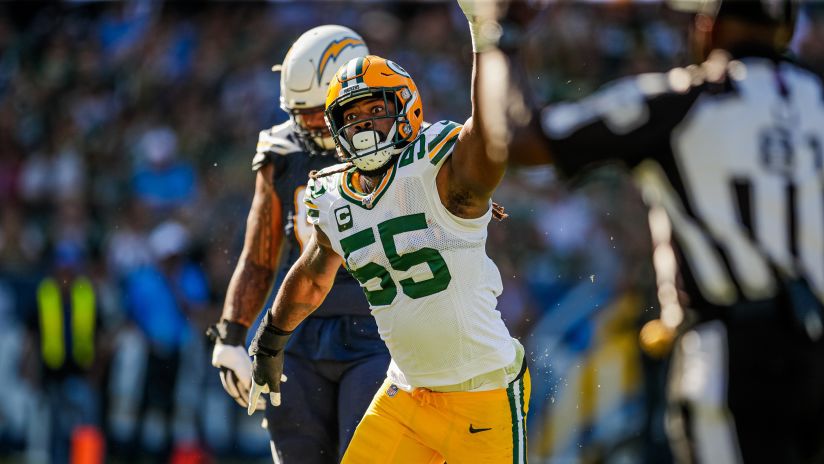 By now, most of you have read and heard enough reviews on last Sunday's game, so not to contribute to the ad nauseum, let me sum up the review in two words… Packers Sucked!
Listening to the Jody Mac radio show on the way home, he posed the question, who laid the biggest egg this week? The Jets, with only one win, loses to Miami who didn't have a win until Sunday? The Brown who even with Odell, have turned into a train wreck this year? Or the Packers mystical loss to the Chargers? He did point out that as bad as our loss was, they lost no ground because everyone in the NFC North lost. In my opinion this is no contest. Two teams are jockeying for the first pick in the draft, the other has visions of a Superbowl win… you make the call. Growing up in Wisconsin in the 60's, it was hard not to love Vinnie and the Boys. Win after win, trophy after trophy, the Packer could do no wrong. Back then, not all Packer game were televised. Most home games were, if the game was a sellout, and if you were lucky enough to have a big TV antenna and could turn it towards the south, you could pick up a fuzzy signal from WTMJ in Milwaukee. Road game were different. Some, like today's 'Game of the Week', was one of the two or three games on the national networks but for most of the road games, one had to rely on radio. The voice of Jim Irwin was our only link to the games, especially the two west coast teams, the LA Rams and the 49'ers. It was one of those 49'ers game that changed my Packer life. December 19, 1965, then an 8 year old boy, sitting around the transistor radio with my Dad, Jim Irwin and… John David Crow? The Packers had a 7 point lead late in the 4th quarter and the defense just needed to stop San Francisco. Every time I thought they were stopped, the name "John David Crow" came over the radio and another 49'er first down. I started screaming, "Why can't we stop him?" John David Crow, first down, "What's wrong with the 49'ers?" John David Crow, first down, "Don't they know this is the Packers?" San Fran didn't listen to me, the Packers didn't listen to me, Jim Irwin didn't listen to me and John David Crow didn't listen to me. The game ended in a 24-24 tie (no OT back then) but in the mind of an 8 year old boy and suddenly a true Packer Fan, this was a devastating loss; I was mad at everyone and everything for a week. That feeling has never left me and the name of John... David... Crow is forever etched in my mind. Funny how things have not changed; the loss of my sunny disposition for a week when the Packer loose, the frustration when the defense can't get off the field and hearing the name of (insert name here) over and over again. "Why can't we stop them? What's wrong with the (insert team here), don't they know this is the Packers? Yes my friends, it was that fateful day in December of '65, a tie and the name of John David Crow that I first started to
Bleed Green My Friends.
(Packer John)
Just Sayin'
There are only 2 good things that can be said of that game with the Chargers. ONE, it was a relatively quick game. TWO, the Bears still suck. While I had no illusions of the Packers going 15-1, I was hoping, even as we lost a couple more games, that we would at least be competitive in a loss. Not on Sunday. As the game started, one could look at the play selection, particularly the pass plays, and see they were of the variety where Rodgers was taking far too long to get rid of
the ball. They were back to the pass plays that take forever to develop. Since Davante Adams was playing for the first time in about 5 weeks, it appeared they were trying too hard to get him involved and got away with what has been working over the last few weeks that he has been out. On the lone TD drive in the 4th quarter, there were quick passes that allowed the offense to get onto some kind of rhythm. The entire drive for the touchdown was passes. Then Rodgers scrambled up the middle for the
2 point conversion. Of course, by then, it was too little, too late. The offensive had probably their worst game of the year. As good as AR12 has said he has felt behind the OL in earlier games, I imagine if the truth were known, he has probably felt pretty beaten up over the last couple of games. And the defense, giving up big play after big play. They have been playing that "bend-don't-break" kind of defense up until yesterday. Then they played the
"bend-then-break" kind of game. Virtually no consistent pressure on the QB. Imagine if the previous regime were still here, we wouldn't have either of the Smiths, no Adrian Amos. Jaire Alexander most likely would not be on the team. Aaron Jones would not be seeing the field but about 5 times a game. Folks, things could be a lot worse if they were still here. We have one more game, and then a bye week. Now, that one more game includes Christian McCaffery. Oh boy ! ! And just a reminder, every other team in the NFC North lost ! ! And before the season started, I think if we all knew we would be 7-2 after 9 games, it would have been pretty much universally, YeeHah !!!
GPB In Our
SPARE
TIME
Spare Time welcomed 73 Packer backers who met to collectively cheer for our team. We will never stop the noise. Our streak continues as we welcomed 2 new members to the club. Make a point of saying "hi" to our newest members:
564 Albert Lemos
565 James Tolan
Some great doorprizes were chosen by lucky winners. 533 Aaron Whalen and 262 Tom Zumbach chose tee shirts. 545 Jeff Slavin picked a set of pint glasses, 531 Sara Hansen and 506 Sebastian Sharpe chose a cheesehead glass, and 123 Kraig Pringle is now sipping his coffee from a Packer mug. 563 Bob Scanlon will snuggle under his Packer blanket. 287 Perri Bressman will sport her new feathered earrings. 345 Dave Halverson chose a hitch cover and 127 Kent Sargent will surround his car tag with a great frame. Winners of the dollar pool were 345 Dave Halverson, 287 Perri Bressman, 542 Kathie Mervyn, and 242 Christina Harrison. New member 565 James Tolen correctly answered the Trivia question. He won a $25 gift card from our hosts at Spare Time. Flex scheduling has changed the start time of our game against the Carolina Kitties to 4:25. I hope to see lots of my Packer backer buddies at Spare Time cheering for our team. This is the week where Spare-Time and the club give away some special prizes, including a half-time treat for our members. I'm hoping last week was just a blip on the radar, and our cheering and togetherness will bring back the good times. Remember, we love and cheer on our Pack through thick and thin...
Marge 328
Packers

vs

Carolina Kittens
There are a few NFL players that I hate. I mean I can't stand to see them on TV, I can't stand to see them play. Bill Romanowski, Jared Allen and Cam Newton fit that category. Romanowski was an a-hole as a player, he spit in another players face. Jared Allen played for the Viqueens, enough to earn enmity eternal certainly, the "hogtie" sack thing was just icing I guess. Cam Newton, (Cam Newton??) while never proven, was paid to play at Auburn, or his dad was overpaid as a "recruiting consultant." It's not because I "Roll Tide" and he played for Auburn. I abhor cheaters. That has a lot to do with my disdain for the current occupant of 1600 Pennsylvania Ave. And that's all I have to say about that. I hold no ill will against a Carolina Panthers fan. However, if you scratch one, you'll find a Dallas Cryboy fan underneath. I don't know that for a fact, I just know it's true. We are not playing against Cam Newton. He's injured, actually today (Tuesday) he was placed on season-ending injured reserve. We will have Kyle Allen, who had been the starting QB since week 3. The Panthers are 5-1 with Allen, losing a blowout to San Francisco at SF. For more on teams playing out West, read Packer John's review of the San Diego game. We are also faced with the task of slowing down one Christian McCaffrey. With our run defense playing so poorly, I see a rough day for our defense, unless Mike Pettine has a trick up his sleeve that we don't know about. The thing we do have is one Aaron Charles Rodgers and the full return of Davante Lavell Adams. Luke Kuechly may be good, but he has to pick his poison, rush the passer or chase Aaron Jones and Jamaal Williams. Not to mention the other likely suspects of Geronimo, Lazard, Jake Kumerow (AKA Football Jesus), Danny Vitale, and Marquez Valdes- Scantling (for some reason the people on Good Morning Football like saying his name is a singsong cadence). There is also something I've mentioned in the past. Though it's normally reserved for the Cubs, it's "the Friendly Confines (of Wrigley Field)." We will once again be in the Friendly Confines of Lambeau Field. You remember Lambeau Field. The last time the Packers played there Aaron had a "perfect" passer rating. It's good to be home! Will Aaron have to be perfect to win this one? No, but he'll have to come close. He'll have to play like he did in Dallas and make Carolina throw the ball. Allen won't be able to hand the ball off, that takes time, and if Aaron is slinging it and dropping dimes, he won't have the time it takes to dink and dunk and run because he won't have that kind of time. You run 12 plays for 8:30 and get a field goal, Aaron runs 7 plays for 4:10 and gets a TD, those numbers add up. I expect Davante to be the difference maker, either by making the plays or allowing others to make the plays because he's covered. I wouldn't be surprised to see 2 backs in the backfield with Aaron. Jones or Jamaal running and catching and Vitale blocking Kuechly coming in from his OLB position. He can either chase Jones and Jamaal for the play-action or he can go after Aaron. Vitale is a pretty good route runner as well and can clear out another defender for Aaron as well. Aaron is enough of a field general to command all of these weapons. Can we win that way? Yes, we did against the Raiders 3 weeks ago. Aaron was perfect that day. He doesn't have to be perfect this weekend. I will take Aaron Rodgers, Jamaal Williams, Aaron Jones, DaVante Adams, Jake Kumerow, MVS, Geronimo! Allison, Jimmy Graham (NO, for the last time, he is NOT related to Billy Graham!), and Marcedes Lewis against ANYBODY. I will scream until my throat is raw all day long,
"GO PACK!! GO!!!"
(Ken Hill)